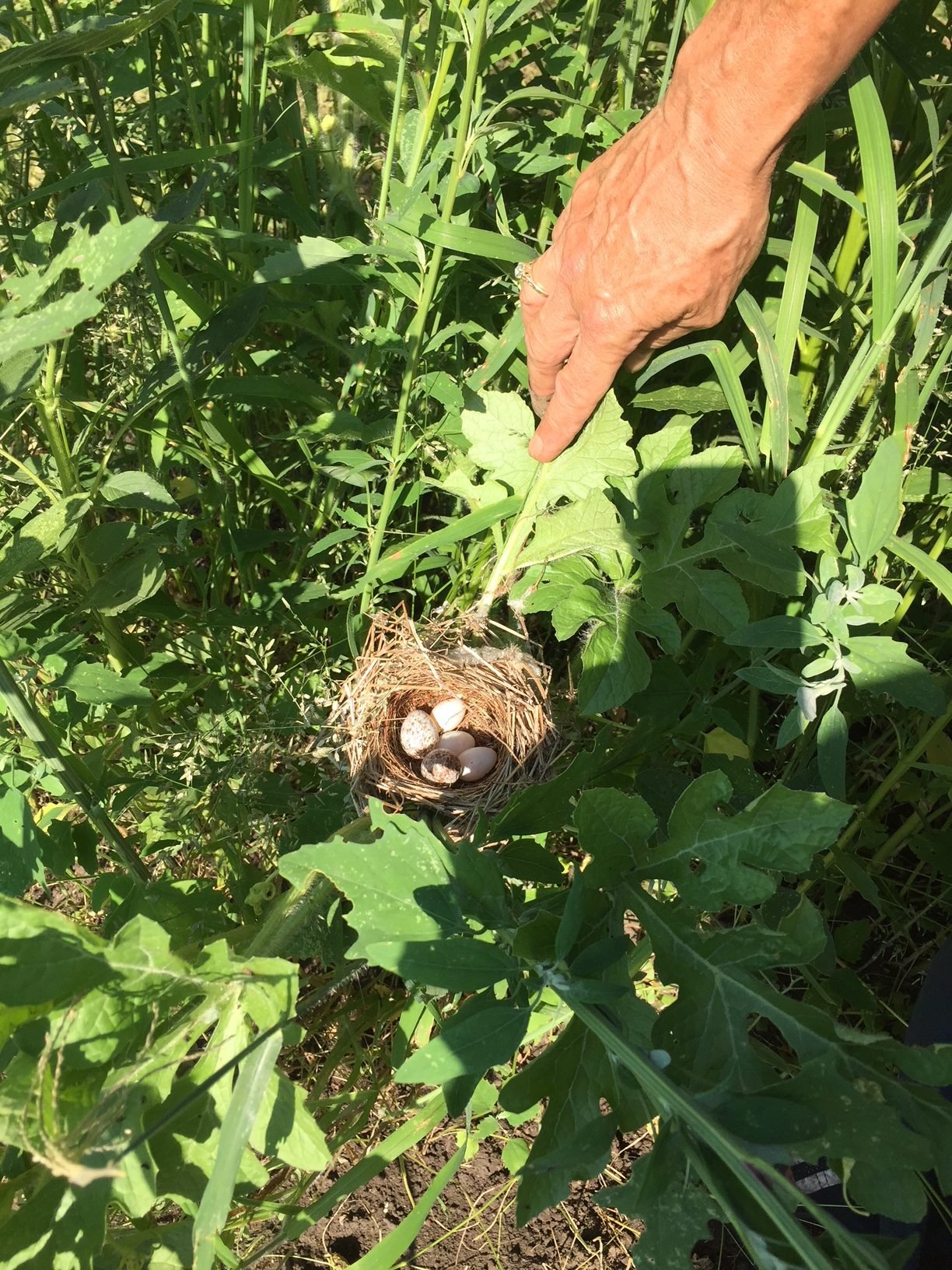 Cleanup Has Begun
A huge thank you to Garden Committee members who braved the heat this week and cleared or cleaned up 6 garden plots that had been forfeited or surrendered for weed  problems.  We were able to salvage a few plants and have reassigned the plots to the volunteers who helped with the cleanup.  We even found this little bird's nest in the tall weeds and are trying to save it,
SQUASH BUGS!!
We, unfortunately, found some squash bugs on the recovered vines. That is a big  problem in weed infested squash and melon patches.  If you have weeds in your squash or melon patches, clear the weeds first, then spray with Sevin (allowed) or dust with diatomaceous earth.  The garden committee has some of the diatomaceous earth available.  Let us know if you want to try that.  Squash bugs can be controlled!  Even eradicated.
Garden Tips
We have a page of Garden Tips from your fellow gardeners and will be adding more soon.  Tips are specific to our gardens. 

Meet Up Gathering Planned
Our new Outreach Coordinator, Peg Keller, sent this years gardeners an invite to a gathering on Saturday morning, July 21 at 10:00 am.  We'll meet out at the gardens and we'll bring the doughnuts,  Gardeners can bring their choice of a drink.  Non-alcoholic, of course.  (Freudian slip:  I originally wrote the meeting was January 21.  Wishful thinking for cooler weather??)
Weeds
We know you all get tired of hearing about weeds and we are really understanding of the hot weather, but we have a few more gardens in need of some TLC.  Official warnings will be  issued again next weekend.  It's pretty simple.  Weeds/grasses more than 6 inches tall OR going to seed MUST be removed.
Cooler weather ahead for next week!!   Happy Gardening!